I want your bio's to have:
Name:
Nickname:
Age:
Gender:
Breed:
Animal type:
Gender:
Admin




Posts

: 100


Join date

: 2008-12-21


Age

: 25



Name:Shanks Spirt
Nickname:Shanks
Age:3
Gender:male
Breed:Quarter horse
Animal type:horse



Posts

: 56


Join date

: 2008-12-21



Name:Winds Breath
Nickname:Wind
Age:3
Gender:Female
Breed:Throughbreed
Animal type:Horse
Name: River Sprit
Nickname:Sprit
Age:3
Gender:Mare
Breed: Throughbreed
Animal type: Horse
Gender:Female
Name: Frost
Nickname:None
Age:3
Gender:Female
Breed:Artic
Animal type:Wolf
Gender:Female
name: Mink
Type: soul shifter
Breed: arabian unicorn
Age: 12,000
Gender: mare
Color: look at the pic lol
Markings: once again, look at the pic
personality: she is sly and cunning. she was gifted with the power over the elements and power over ur souls. she can manipulate u and she can take ur soul and free will out of ur body, once she has taken ur soul u will be her eternal minion until she releases u by death. she is a master of witchcraft and sorcery. she makes spells and elixers. she can curse u or she could bless u. her personality towards u will vary by her mood. mink was born under a full moon and her parents were the rulers of the Lamia. she is evil. she survives off of the blood of mortal beings and by absorbing the souls that she steals from other beings.
Mink can change into a Nukka. it is a small and delicate animal with hollow bones and is able to dart from place to place so fast you cannot see her movements. but no matter how fragile this form may seem it is extremely lethal, capable of bringing down huge prey such as dragons and moose even though it is the size of a small housecat.
Pic: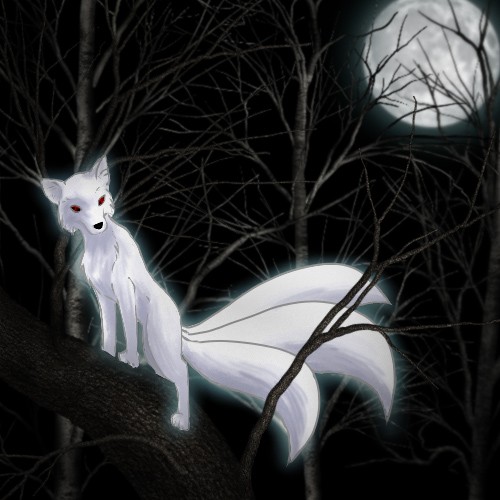 Mink has a Minion, her name is Tethys. she is a Minst Wraith. she is capable of engulfing you and stealing your soul. she is almost as powerful as mink and her loyalty to her is infinite. she will do anything to protect her mistress.
Pic:



Posts

: 10


Join date

: 2008-12-22



Name:Queen
Age:4
Gender:Female
Breed:Timber wolf
Animal type:Wolf



Posts

: 12


Join date

: 2008-12-23





Similar topics
---
Permissions in this forum:
You
cannot
reply to topics in this forum